23 Sep

Who is Broken Arrow's Best Barndominium Architect?
Who Is the Best Barndominium Architect in Broken Arrow?
If you're unsure, barndominium, or "barndos," homes are designed as country homes with a strong emphasis on barn decor and influence. You may be thinking this sounds the same as a classic farmhouse style, but there are several differences. Barndominium designs usually feature a gabled roof, vintage vibes, and if the name didn't already give it away, repurposed pieces of barn.
Who is Broken Arrow's Best Barndominium Architect? If you're interested in the barndominium style of home, Property Arts Inc. architects are the best in Broken Arrow to design and build your amazing barn style home. Property Arts is committed to taking care of design and implementation for exactly the barndominium style of your envisioning.
Are you interested in learning more about the history of barndominiums and why they are so popular today? Keep reading to learn about the many benefits of barndominiums as both homes and commercial spaces.
What Do Broken Arrow Barndominium Architects Do?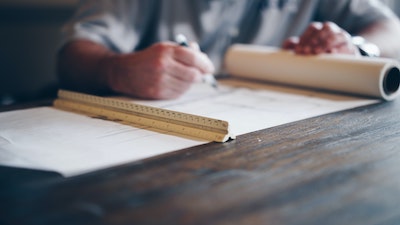 Barndominiums, a style rising in popularity, originally began as simple and practical homes for ranch hands and farmers. A simple loft would be built within the barn so that their workers weren't too far from their livelihood…the livestock. These days, barndominiums have become a top-notch luxury style (although they can still literally be in a barn loft if you prefer).
Usually built with a steel or metal shell, these unique homes are customized to meet the style of the home-owner. Even though these stylish homes can be customized to the nines, their frame is simple and easier to build. Due to the steel, these homes are built to last. Barndominiums can be constructed with so many different options, from a shingled roof to wood siding
Broken Arrow barndominium architects are responsible for helping you design your dream home and bring the vision to life!
Building the Barndominium of Your Dreams
A Broken Arrow barndominium architect will help you define your vision, whether you want something simple or more elaborate or even something in the middle. At Property Arts, we build custom homes that can meet every lifestyle. We will aid you in every step of the home-building process, to home design to the construction process. We believe in excellence, and you can be sure that you're home is in good hands. Our customers work heavily with us to make sure that our designs are exactly what they dreamed of.
Now that you know who the best barndominium builder in Broken Arrow is, let's look at some more interesting facts and benefits of building your own barndominium!
Benefits of Building a Barndominium
Many homes in America are constructed with wood, but barndominiums are typically made with a steel frame. This means lower costs in construction and maintenance, the flexibility of customization, and design.
Savings: Steel doesn't rot or get termites, very unlike wood. this can save tons of money in the long run!
Energy Savings: With properly installed installation, barndominiums are less likely to spring air leaks or other common energy slips. A metal frame is much better at defending against the elements.
Insurance Savings: The steel frames used for barndominiums cannot burn, which is great for insurance savings!
Multi-Purpose Space: Barndominiums can be used for home, business, home office, or an actual barn. This is the perfect style to use as a part-home, part-work situation.
Open Design: As mentioned previously, barndominiums are perfect for multi-purpose use. The open floor design means you can make your home just about anything you want.
Metal Structures: These structures are tough and unlikely to experience the problems that typical wood homes do. It's just another reason we love them.
Often Less Expensive: Because the metal structure is very simple, besides customization, these homes can be much less pricer than other styles.
Easily Expandable: If you are interested in expanding your barndominium, it's a much easier task than with most homes due to the open plan and steel frame.
While we've focused solely on barndominiums as homes, keep in mind that this style can also be used to businesses and commercial use.
What Determines the Cost of A Barndominium?
The cost of a barndominium home varies greatly depending upon customizations and materials. Here are some things to keep in mind regarding the cost:
Metal: Whether you choose steel or other metals will affect the price.
Size: Although a larger home might be overall more expensive, you might save money by having more square feet when looking at the price per square foot.
Higher Wind Load Requirements: Wind loads have a structural effect on buildings and your barndominium may need more precautions to ensure everything works for years and years to come!
Doors and Windows: The more openings you have in your home, the more the price increases. Although we also love giant windows overlooking the land, make sure that it's in your budget.
Finishes: We love how customizable this style is, but keep in mind that all of the finishing touches will add up!
Roof: With barndominiums, you have a lot of control over the pitch and style of your roof. This will influence the overall price tag.
Insulation Material: We encourage you to pick premium insulation since, in the long run, it will save you energy costs and more. The insulation costs will vary, but this is usually one you will definitely want to budget out a little more for.
Why Are Barndominiums Popular?
Barndomiuniums have been around forever for a reason. They are less susceptible to damage or decay, and they are easy to design as fancy or as simple as anyone would like. Although this style of home is most popular in the South, it has gained a lot of traction and attention in recent years.
This, most likely, is due to the barndominiums brief showcasing on a season three episode of the hit HGTV show 'Fixer Upper'.  The incredibly popular home renovators Chip and Joanna Gaines remodeled an old barn to include stylish living quarters. Chip Gaines mentioned this style being a "barndominium" and since then the awareness of this country-style has become more and more popular and requested by architects, including us here at Property Arts.
We also love building barndominiums because they are a great way to incorporate the land and culture into your Oklahoma home, with wide-open windows that open up to the plains, or even the city. A nod to our roots and our land, we would love to create the perfect Broken Arrow home for you.
Property Arts is the best option for building your dream barndominium home that will reflect your style!
Working With a Broken Arrow Barndominium Architect
Property Arts offer everything but the kitchen sink when it comes to home design, and here's just a list of their Tulsa architect services below:
Preliminary Design Services
Define Project Scope – Site Evaluation & Analysis – Master Planning Studies
Project Budget Review – Project Schedule Review – Code Reviews
Design & Construction Documents
Site Planning – Building Design – Equipment Layout – Utility Coordination
Interior Details – Safe Room Design – Sustainable Design – Construction Specifications
Bid Announcement
Bidding & Contractor Selection Services
Oversee Bidding Process – Schedule Bid Opening – Oversee Bid Opening
Evaluate Bids – Qualify Contractors – Assist in Contractor Selection – Prepare Contract
Construction Oversight Services
Initiate Construction Contract – Monitor Project Schedule – Observe Construction
Approve Submitted Materials – Review Pay Applications – Verify As-Built Items
Coordinate Warranty Item
Property Arts Architecture's employees are experienced in building beautiful barndominium style homes. Our design and construction team have over 125 years of experience in various types of projects. No matter what kind of barndominium building you would like, Property Arts is the best in Broken Arrow!
Property Arts specializes in designing and building customized homes that will stand out among any other houses. This is a perfect combination for a barndominium style home, which can be customized either to be a true barn style, country home or to be more unique or cutting edge. Contact our barndominium builders to learn more.