13 Aug

Broken Arrow Construction Business | Property Arts

When renovating your home, one of the main motivations for changing the layout is space. Everyone wants the perfect HGTV open concept living room and kitchen. Not everyone knows how to make that dream a reality. That's where Property Arts come in. We are a Broken Arrow Construction Business with 125 years of collective experience work a variety of small remodels as well as building homes and churches from the ground up.
Making Three Into One
There are a few ways to go about redesigning your space for a more open concept living area. One of those ways is by knocking out any unnecessary walls that separate the kitchen, dining room, and living room. If you are unsure if you can knock out these walls, contact a Broken Arrow Construction Business like Property Arts to give you their expert opinion and even quote you a price for the job. We can take care of your home renovation needs to make sure your home is your dream home.
Making a Breakfast Bar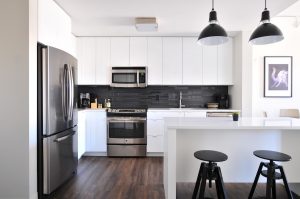 Another way to open up your space is by turning the adjoining wall between your kitchen and dining room into a half wall with a breakfast bar. This option is much less intrusive and low-cost. Nine times out of ten, this wall is not a load-bearing wall and can be taken out without any concern for the structural integrity of your home. This can be an intimidating task, but, again, if you are unsure about it, contact a Broken Arrow Construction Business to help you ensure the structural safety of your home. Property Arts will be able to tell you with assuredness that this wall can be knocked out, as well as give an estimate on the project. We can help you get that HGTV quality remodels to update the look of your home.
Where to Start
Hiring a Broken Arrow Construction Business to help you redesign your living space can give you the assurance that the job is done right the first time. This allows you to turn your current home into the home of your dreams and costs a fraction of the price of a new house. If you have a vision of your dream home, have you taken the time to visualize it in your current home? Call a Broken Arrow Construction Business to see what the experts can do to help realize that dream home within the space you already have.
Stop Wishing, Start Planning
Stop wishing that you could have a better home and start planning out your next remodel. Create that open concept living space you've always dreamed of. If you need help making the vision into reality, a trusted Broken Arrow Construction Business is at your service to make it happen.
Property Arts is ready to take your home to the next level and update your old home by bringing it into the modern age. Give us a call to start the process and we will make your dreams come true in your home. We are here to serve all your home renovation and construction needs.